Black Diamonds | Buying Guide | Prices, Color, Rarity
BLACK DIAMONDS
While large natural black diamonds like the Black Orlov (below) are exceptionally rare, you'll find black diamond jewelry readily available. Most black diamonds have been treated for improved durability. Irradiated or heat treated black diamonds will cost substantially less than untreated or colorless diamonds. As is the case with all fancy colored diamonds, naturally occurring colors are the most valuable and desired, though you may have to look a little harder to find them.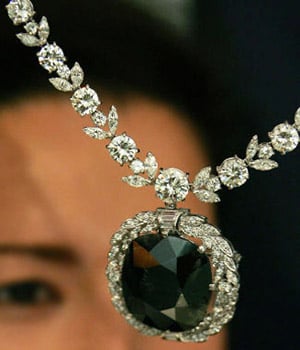 The Black Orlov (Image Source: AFP/ Carl De Souza)
One of the most remarkable natural black diamonds in the world, the 67.50 carat Black Orlov.
WHAT ARE BLACK DIAMONDS?
When we buy colorless diamonds, one of the things we look for is eye-clean clarity, i.e. no visible inclusions. Diamond inclusions can take many forms but often appear as black (pyrite/graphite) marks, dots, and streaks within the diamond. Black diamonds take these inclusions and make them a key feature. Natural black diamonds are essentially colored by these dark inclusions or impurities, which are great in number and evenly distributed throughout the stones. They are most commonly found in the mines of Brazil and Central Africa.
Diamonds are prized for their durability; scoring a 10 on the Mohs scales of hardness, colorless diamonds are extremely resilient, making them perfect for everyday wear. Poorly situated inclusions can compromise the durability of a diamond, however when these inclusions are evenly distributed (as is the case in natural black diamonds) the result is an even harder diamond. Before taking their place in the world of fine jewelry, black diamonds were used for industrial purposes due to their exceptional hardness and this feature continues to be part of their appeal to modern buyers.
It is worth noting that some buyers do report black diamonds cracking or shattering when bashed against a hard surface; in truth, all diamonds can crack if they are struck with enough force, but unfortunately positioned graphite in a black diamond may make them more susceptible. It is more common for treated (irradiated) black diamonds to shatter, so if you are looking for a black diamond that will stand the test of time, natural is the way to go.
BLACK DIAMONDS GRADING AND COLOR INTENSITY
Most fancy colors are usually defined by up to nine intensity grades (e.g. fancy light, fancy intense etc) however, like red and white diamonds, black diamonds are graded with a single distinction: fancy black. This grading will be given with a notation of natural or treated color on laboratory reports. For example, GIA does not grade black diamonds as they fall outside of its normal clarity range, but the lab will issue a "Colored Diamond Identification and Origin Report (CDIOR) for identification purposes.
Independent sellers and boho-type brands have started selling heavily included diamonds (sometimes referred to as 'salt and pepper' diamonds), using these imperfections as a unique feature for those seeking something unusual for their diamond jewelry. The lack of definitive color and clarity grading for black diamonds can make it difficult to distinguish a heavily included diamond, from a fully saturated, black diamond. They are, in essence, the same thing, but the appearance of heavily included/black diamonds can vary. The exact visual properties of these diamonds must be assessed by eye or using high-res imaging and a CDIOR report.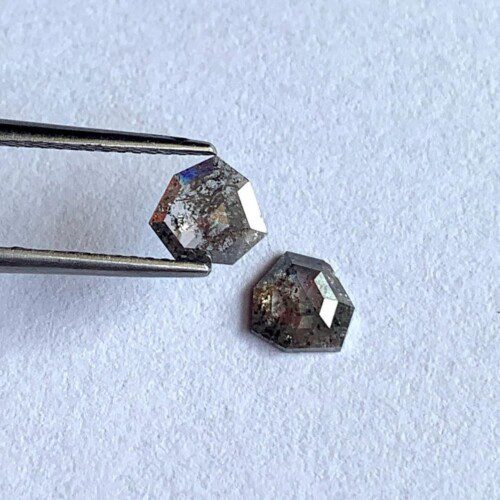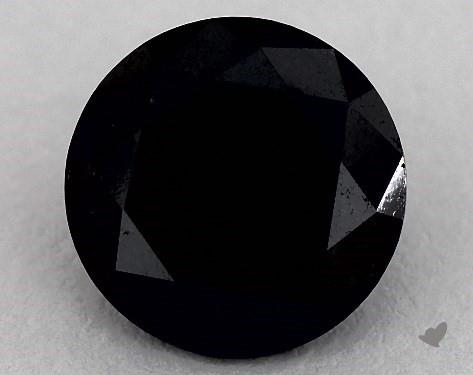 Our knowledgeable contributors have debated the topic of treated VS natural black diamonds, providing anecdotal experience alongside professional opinion, allowing you to choose which variety of black diamond is right for you.
ARE BLACK DIAMONDS RARE?
Large, natural black diamonds are fairly rare; diamonds like the Black Orlov are very rare, but irradiated black diamonds are abundant and utilized in many jewelry styles. Although there is a considerable price difference between natural and irradiated black diamonds, both are certainly more obtainable and affordable than other fancy colored diamonds. Black diamonds are considerably rarer than colorless diamonds, however, as an opaque gemstone, they do not exhibit the characteristics that are typically associated with diamonds, i.e. sparkle! Instead, they have a unique lustre, giving an almost metallic appearance. Black diamonds make a bold statement and continue to rise in popularity. They are particularly striking in white metal settings and also make the perfect partner to other fancy colored diamonds and colored gemstones – after all, everything goes with black.
BLACK DIAMOND PRICES
When it comes to black diamonds, it's essential that you work out whether the diamond is a natural black or has been treated. This can get a little confusing, as a diamond may be listed as natural, but this only indicates that the diamond itself is natural, not the color.
Treated diamonds are considerably cheaper than natural, black diamonds but naturals are also very affordable. This 1.86ct modified cushion cut black diamond by James Allen is priced at $3,610 – a very reasonable spend on a diamond of this weight and quality. The price of black diamonds is lower than other fancy colored diamonds.
WHERE TO BUY BLACK DIAMONDS?
James Allen and Leibish both sell natural black diamonds complete with high-res imaging. You will find black diamonds sold across the internet, but in each case, it is imperative that you get clear answers about whether the diamond has been color treated – if you see a super-low price that seems too good to be true, it is likely the diamond is not a natural black. Black diamonds are a unique addition to fine jewelry that can look truly stunning.
BLACK DIAMOND GALLERY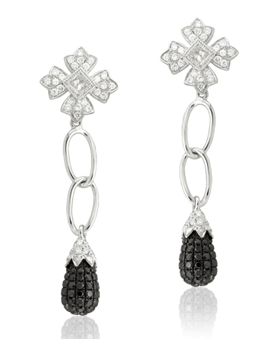 Leone collection black diamond earrings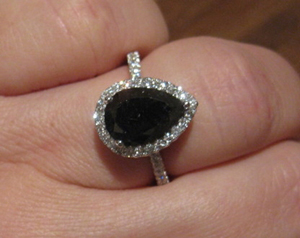 (Image Source: PS Member, LovingDiamonds)
4.1ct black diamond halo ring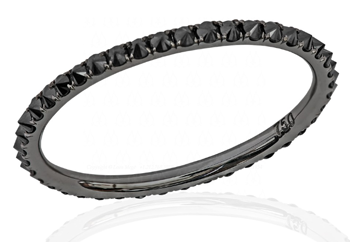 Black diamond ring
(Image Source: micropavé.com)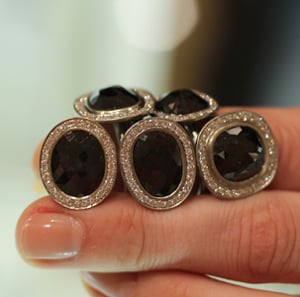 Black diamond rings by Anne Sportun (Image Source: Anne Sportun)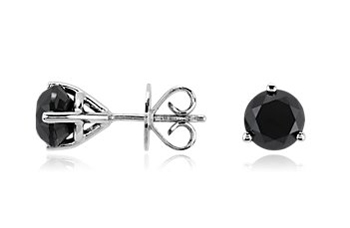 Black diamond stud earrings
(Image Source: Blue Nile)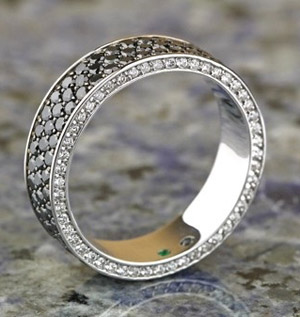 (Image Source: makhro82)
Pavé black diamond ring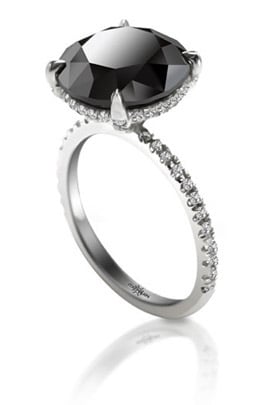 5ct black diamond ring by Itay Malkin
Learn more about Fancy Color Diamonds
Have more questions about fancy color diamonds? Click on the links below or visit our Fancy Color Diamond Guide.
Fancy Colored Diamond Guide Topics:
Fancy Colored Diamond Introduction, Yellow Diamonds, Brown Diamonds, Pink Diamonds, Blue Diamonds, Green Diamonds, Black Diamonds, Red Diamonds, Orange Diamonds