By Erika W.

Happy Halloween!
From Ghoulish to Gorgeous, Jewels for Halloween
We hope you have a fabulous Halloween! Now fill those plastic pumpkins with some blingy goodies!
Diamond Spider Ring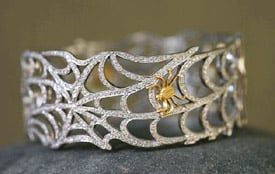 Cobweb Ring with Gold Spider
Cathy Waterman
A lacy cobweb and a golden spider make this Cathy Waterman ring a Halloween delight.
Sunstone Cider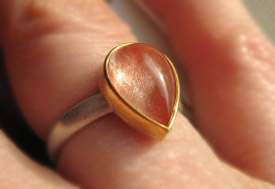 Posted by FlyGirl
Oregon Sunstone Jewelry
Oregon Sunstone with its shimmering copper schiller warms like spiced apple cider on a fall night.
$100 million Diamond Skull
1,106.18 carats of pave-set flawless diamonds with an approximate selling price of $100 million make this the most elaborate and expensive diamond skull in the world. More information regarding the value of this macabre creation can be found here: What is Fair Market Value.
Skull Pendant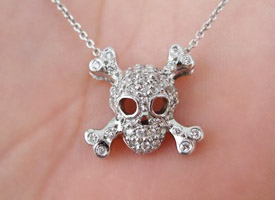 Posted by k9muttlover
Roberto Coin Diamond Skull Pendant
A life sized diamond skull probably won't fit in your plastic pumpkin, but this little diamond skull pendant might do the trick.
Black Diamond Ring
Skulls not your thing? A cool black diamond ring may be all you need this Halloween. This 5 carat black diamond ring by Itay Malkin made a splash in Sex and the City 2 when Big gave it to Carrie Bradshaw.
Pumpkin Diamond
Orange you glad that diamonds come in fancy colors? Orange diamonds are among the rarest in the world. Break out your vivid orange gemstones this Halloween!
Halloween Proposal?
Halloween is a great time to propose! Enjoy these Pricescope Halloween proposal stories.
Just sharing my proposal that happened on Halloween
Halloween Treat! Asscher Engagement Ring
Click here for more Proposal Ideas.
Got your Halloween Costume?