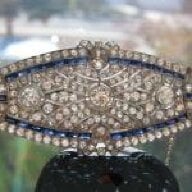 Joined

Nov 24, 2006
Messages

24,299
Spec''s??? Is this what you mean.

my new platnium setting from Solomon Brothers and I loved "Headlights" ring.
Here is the info on the diamond from WF. Carat Weight: 1.50 Color: G Clarity: VS2 Depth%: 62.2 Table %: 57 Symmetry: VG Polish: VG Girdle: TN-STK Culet: N Fluorescence: N Measurements: 7.29x7.34x4.55 Cut Grade: Ideal
62.2% depth, 57% table, 35° crown angle, 40.8° pavilion angle

Factor Grade
Light Return Excellent
Fire Excellent
Scintillation Excellent
Spread
or diameter for weight Very Good
Total Visual Performance 1.7 - Excellent
within TIC range

Thank you all for the sweet compliments. Yes, rounds sparkle, but i do like other shapes too!!!!