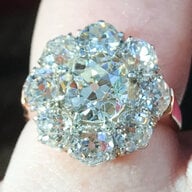 Joined

Nov 17, 2013
Messages

2,560
I was one of the lucky winners of a $1000 gift voucher this holiday season. I decided to put it all into a diamond, and I chose a D VVS2, well-cut .37ct MRB, because I have a lot of warm diamonds and I wanted something different.
[URL='https://www.pricescope.com/community/threads/what-im-doing-with-my-1000-pricescope-gift-voucher-win.218451/']https://www.pricescope.com/community/threads/what-im-doing-with-my-1000-pricescope-gift-voucher-win.218451/
[/URL]
As it turned out, the colorless and, by all accounts, perfect diamond did nothing for me. With Andrey's permission, I returned it and set about choosing a warm AVC diamond from
GOG
. David was a pleasure to work with, and I received a beautiful .37ct M VVS1 AVC. There was even enough left over in the voucher for me to get a 1mm 14k rose gold 18" chain.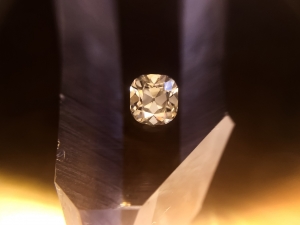 I had the diamond in a little piece of cloth in its three layers of papers, inside the envelope it came in, taped closed, in my night table drawer, and I was in the process of researching possible pendant settings. As I was changing the garbage bag in the kitchen, I noticed the outermost diamond paper on the floor near the garbage can. My kids had been cleaning up their messes and I think I went from 0-60 in 2.2 seconds. I ran to my bedroom and opened the drawer, and, indeed, the whole envelope was missing. I have 4 kids, and I was freaking out (actually crying), searching the garbage while questioning them, trying to find information about where in the house the envelope had been opened. My daughter and I searched the garbage bag (eeeewwwwwww!) and found the envelope and all of the papers, but not the diamond (and not the little piece of cloth). Finally, my 6-year-old admitted that he had seen the 3-year-old opening the package on his (the 6yo's) bed the day before. Before I even reached his room, my oldest two kids (9 and 11) had taken everything out of every space in the 6yo's room, with the idea that the 6yo might have thrown it into something while cleaning up. I explained, while extremely frustrated and upset, that they had just made it almost impossible to find it, and we put everything away. The diamond was fluorescent, so I ran and got a black light flashlight and started frantically looking under the bed. At that time, my 9yo was looking on the blanket and
he exclaimed, "I found the diamond!"
I looked over at his fingers tentatively, and
HE HAD ACTUALLY FOUND IT!
Like a needle in a haystack, he found a not-much-bigger-than-4mm diamond in a whole house full of kids and toys.
AMAZING.
The story has a happy ending. My sad tears turned to happy tears. I still haven't recovered, haha, but I will.