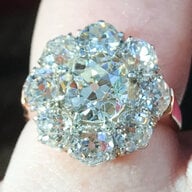 Joined

Nov 17, 2013
Messages

2,560
I am one of the lucky winners of the Pricescope 2015 Holiday Giveaway, and I drove myself crazy for the last several days, trying to decide what to do with my $1000 gift voucher! I spent time looking at every single website of the sponsors. I would love to have a piece by
Victor Canera
, but we weren't planning to purchase anything right now (I am happy with my wedding ring, and Victor's settings cost well over $1000). I considered a multicolored diamond white gold Lilies band from Leibish, and I enjoyed my chat with Itzik, but they didn't have my size in stock, and I prefer warmer metals lately (I'm having a rose gold year). Also, they weren't able to provide images of specific pieces (just one like it). I thought about a rose gold and diamond toe ring, but the setting would have eaten up a lot of the money, so I decided to put it all into a diamond and figure out what to do with it later. I called Wink, and he said there aren't any small
CBI
diamonds, which I already suspected. I contacted
Good Old Gold
(I love the August Vintage line), but all three of the diamonds I was interested in were glitches in their website (that had been sold long ago). I looked at
Whiteflash
, but I couldn't gather much from the photos and videos with the black background.
I looked at
James Allen
and loved the videos. I really felt like I could understand each diamond. At first, I thought about getting the biggest well-cut diamond I could find, but...I already have warm diamonds (and I love them), so I decided to go for something different with this little unexpected windfall.
I chose this .37ct D VVS2. It scored .7 on the HCA and I love the 75% lower girdle facets. I think this is an absolutely beautiful diamond, and I look forward to receiving it!
Stats: .37ct, D VVS2, 4.67x4.65x2.83
Table: 57
Depth: 60.8
Crown Angle: 34
Pavilion Angle: 40.6
http://www.jamesallen.com/loose-diamonds/round-cut/0.37-carat-d-color-vvs2-clarity-excellent-cut-sku-804781
This photo is a screen capture of the video. The video is much better for viewing the diamond.