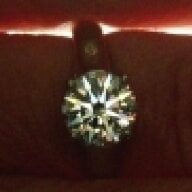 Joined

Jan 13, 2006
Messages

24,426
Date:

8/16/2009 2:05:46 PM

Author:

Moh 10

Date: 8/16/2009 1:40:29 PM
Author: Ellen
Many people come here either having been erroneously told/sold that high color and clarity make the most beautiful diamonds, or they''ve been to the mall and have seen SI1''s that made them run away in fear, therefore they think all SI1''s look like that and think they need to go way up the ladder on clarity.

I agree, many newbies come here misinformed that high clarity and color are responsible for beauty rather than cut.

And yes I too will work to educate such a newbie.

I frequently mention that the majority DO land in I/J SI eye-clean range, without saying this range is better or worse.

May people really do want to be part of the larger group, assuming it must be better, rather than doing lots of homework.

So be it.

After

the education if their comfort zone in the I/J SI eye-clean category (or anywhere else) then that is perfect.

My only point is that (after education) joining a large group or a small group is equally groovy when it comes to diamond grade preferences.
This I totally agree with moh. After education, I seriously don''t care what anyone buys, even if they end up in a group all their own! I just wanted to point out that many come here
un
educated. We don''t "push", we educate. That was my point.