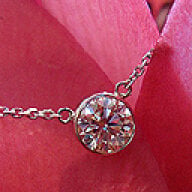 Joined

Oct 30, 2002
Messages

31,003
I wanted to add the strawberry salad we have been eating almost nonstop for the last few weeks since strawberries are in season and they are so cheap right now!! I have been buying 2 packs every 4-5 days for the last 3 weeks. You can modify this however with greens or cheeses as you wish...but here is how we make it. It takes me literally about 5 minutes to make it, and it's a great 'quick' add-on for a dinner.

Strawberry Bleu Cheese Salad
Mixed Greens (I have also seen it done with Spinach)
Lowfat Crumbled Bleu Cheese (I have also seen this done with feta)
Halved Sliced Strawberries
Fat Free Raspberry Dressing (I use Conzorzio brand in a tall round bottle from Whole Foods, it's one of the best I have found)
Fresh cracked black pepper

Per large serving: ~80-100 cals depending on how much cheese and dressing

--Add ins to your taste: diced pecans/walnuts/almonds; diced green apples

I made this for 2 parties recently (with pecans and apples) and it got rave reviews and was totally gone (since when is the salad entirely gone at a party with other goodies? hehe). The strawberries and raspberry dressing give it a real sweetness and the bleu cheese is somewhat tart so it works very well together.