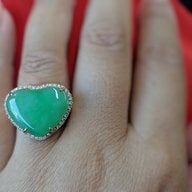 Joined

May 17, 2014
Messages

5,202
Hallooo

Another thread got me thinking.

Would you (have you) collected things that you think are ugly or meh because they are rare (or to have a broader collection) or do you need to enjoy the look?

Black jade, yellow jade, black diamonds are not my jam so I will never buy them. I've never been one to need to complete a collection or have a diverse collection through so if I think it's ugly to me or bad value, I will skip it. I gave my blue sapphire away because I just couldn't be bothered with blue anymore (don't really care for it) so I'm happy to skip obvious things in a collection if I don't like them.

My downfall is I buy the same things over and over again because I love them.