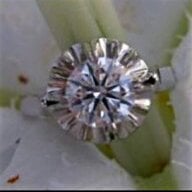 Joined

Nov 17, 2009
Messages

2,738
I have thought long and hard before starting this thread. I really have no intention of insulting anybody and in general I don't like to criticize other people. But for some reason, I feel that it's one of those times, when I can't keep my mouth shut any more and I have to talk about this.
I have been a PS member for many years now. During all those years I have enjoyed reading the Rocky Talky threads. I especially enjoy reading about people, who come here with a modest budget and the wonderful people of the forum help them make the best out of it and end up with the most amazing ring their money could buy!!
But occasionally, I see threads of people, who are struggling with meeting their SO's unrealistic expectations, when in fact their budget doesn't allow it. And I read about ladies, who want a specific size of diamond, in a specific (very elaborate and expensive) type of setting, made of this and not the other metal, etc. Now don't get me wrong. I totally support the idea of discussing your wishes and ideas with your future fiancé, because the ring should please the person who is going to wear it for the rest of her life. It is a very important, expensive and sentimental purchase and having feedback from the person who will be wearing the piece is extremely important.
But whenever I read a thread of a poor guy, who is trying to accommodate all the unrealistic demands of his lady, with a budget that really doesn't allow it, I can't help but put myself in his position and feel frustrated. I wonder, are some ladies so young and immature and have no idea how much diamonds and elaborate settings cost? Are they not aware of what the real financial status of their future fiancé is and they have the illusion that he can afford what they are asking for when in fact he can't (at least not without getting in debt)? Or are they just selfish and self centered and expect to get exactly what they wish for, without worrying about the cost?
Very frustrating...