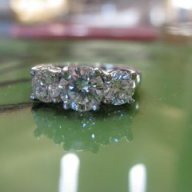 Joined

Jun 2, 2010
Messages

142
Hello all,

I have a nice 3 stone ring, 1 ct center, 2 .5 ct side stones that I would like to turn into some new pieces.

I am thinking a halo'd ring for the 1 ct and halo'd earrings for the side stones.

I contacted

Whiteflash

as they have a setting I really liked for the ring and was informed that I needed an AGS or GIA certificate in order for them to reset these stones for me. I don't have a certificate for the ring. I bought the ring back in 2004 from Costco (boo me all you want for buying from Costco, but I got a ring appraised at $14k for $7k and the stones are beautiful as far as I'm concerned) and they didn't provide a certificate other than an appraisal.

The setting I'm looking at for the ring is not cheap at over $5,000 PLUS the remount and settings for the earrings and I get this via email from

Whiteflash

:

Due to our policies I'm not sure that

Whiteflash

will be able to assist you in your re-set at this time. We truly appreciate your interest though!

Sounds like a blow off to me. Very disappointing.

Anyone have any suggestions to who would be my next contact for this project? If

Whiteflash

doesn't want my money I'm happy to shop elsewhere.

PS: I'm not shopping Leon for this project. He's shown no interest either. I have a beautiful custom Leon ring, but when I approached him about this project he wasn't interested and I'm continuing my search to find someone to remount these stones.

Thanks!