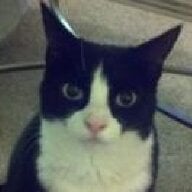 Joined

Aug 8, 2005
Messages

40,198
So I had an antique 18K chain with cool links that was too short for my neck. Given to me by my grandmother.
And a 7 stone anniversary band that used to be my mothers that was uncomfortable to wear. With seven 7-8 pointers (not sure, will have to ask Brian if he weighed them).
A .4 (approximate) OEC diamond that Neatfreak had bought on ebay for a good price and hadn't set. And that I couldn't resist buying from her.
And I had a .6 (approximate) OEC I had found on ebay, with a chip right on one of the facets near the table.
I called
BGD
and asked for them all to be rehabilitated (the chain had no plating left in parts and the .6 OEC needed a recut to get that chip out) and combined into one lovely DBY necklace with a drop in the center.
And... I get to pick up the result today (in a few hours!). But to hold me (and you) over... here's the glamor shots!
All the bezels have the finest milgrain on them. Everything has been re-habbed. And the .6 OEC has perfect light return now (I will post the sarin later, promise). Six stations on the DBY with the 7th stone from the seven stone band between the two larger stones in the drop. All 18K.
I'm SO thrilled to turn these pieces that by themselves were just hanging out, unworn, into a wearable and gorgeous piece!!!
Thanks to everyone who encouraged me to do this!!!! And my thanks to my husband, as this project was his Christmas present to me.