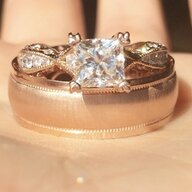 Joined

May 19, 2020
Messages

463
Hello friends!
I have a adorable .56 D OEC that's been sitting loose in a box for months. I have big plans for this little gal, but those plans are +$4k and out of my budget for right now. I hate to see her laying around unloved. I want to set her in the most simple, inexpensive ring setting I can until I can afford the big bucks to get her in a permanent home.
My question is, who would you trust, and who wouldn't break the bank to have her set? I was quoted $870 for a simple 4 prong martini setting, yikes.
I've scoured Loop Troupe but don't trust that she would fit any of those settings. Then that begs the question of finding a jewelry who would set her if I thought a setting fro LT. Heck at this point I would even go for a Stirling silver setting.
After a horrible Etsy experience where a seller stole 15+ of my stones, took my money, closed her shop and went MIA, I am hesitant to use Etsy again. I've found some reasonable settings with Ivy and Rose, but I know there's gotta be more folks out there.
Thoughts?
Awful picture for bling tax