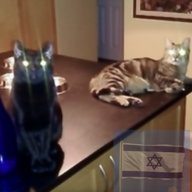 Joined

Jun 8, 2008
Messages

36,195
I was feeling half way human for a while yesterday and today other than posting a bit on here all I did all day was cat nap.
Mostly out of it again today.
Thank you for asking.
Aww hope this morning you wake feeling much better. And cat naps are very good.
Speaking of cat naps...(old photo of our4 kitties taking a cat nap).

I didn't get a nap but I will be taking part of tomorrow off after my A.M. meeting.
Hope you get a cat nap in today
@Arcadian
and hope you are feeling better too.