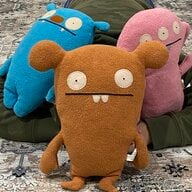 Joined

Oct 24, 2012
Messages

11,204
A big birthday is coming up, with my 25th anniversary next year, and I wanted a ring that would commemorate all of it. I wanted flashes so colorful, bright, and endless that they would distract me while I was working, in a setting I've tucked away in the back of my mind for years - Steven Kirsch's three stone trellis setting. It's just stunning. The workmanship is amazing, and I am very lucky he was available to create this for me.
This is long so you can skip to the pictures.
The three stones are the 2.47 E VS1
ACA
, 1.2 G SI1 expert selection and 1.11 F VS1, from my original e-ring. I have always loved super blingy looks and three stone rings, so I decided I may as well combine my loves. Knowing my DSS tendencies, I decided to err in the direction of big with a little extra room for DSS to set in, like buying a sweatshirt a size bigger in case it shrinks in the dryer. KWIM? My studs have been in a box since I started wearing my VCA pave sweet Alhambra studs. So instead of letting them collect dust, they became my sides stones. They were perfect for the big look I was going for, and the colors matched. (
Whiteflash
matched a very high G to my GIA F almost 6 years ago.) Steven assured me he could make 8.7mm + 6.8mm + 6.8mm work, and that's all I needed.
I had met Steven back in 2015/2016 with
@missy
when I visited NYC. He was kind and gracious, spending over half an hour with us, while knowing we were not buying or commissioning anything. When he showed us his work under a microscope, I knew he was anal enough for me. I have admired the fluidity and "swoop" of his trellis for many years and this was the time for it. I needed someone who was enough of a perfectionist that I would not feel the need to micromanage. I only asked if the stones could fit, could I get claw prongs, and would he provide the shipping. About 4 weeks into it, he asked how thick I wanted the shank. I replied, "whatever you think will be most beautiful". Never has the control freak in me been more subdued.
I will admit to being very impatient and I could have saved myself a lot of angst if I just chilled the f*** out. Now that I've gone through it once, I would not hesitate to work with Steven again. It's like childbirth the first time around, fear of the unknown. The second time, no sweat. From the time of shipping out to receiving this ring, it's been seven weeks. Given a global pandemic, storms, shortages, supply chain issues, and people trying not to lose their minds, I'm just glad my ring isn't out floating with Tom Hanks and Wilson.
And I kid you not when I say it takes a village. This is a group ring, and these are all the PSers who helped make it happen.
@KristyDarling
who gave me permission to embrace the real bling-ho in me.
@JDDN
who is so savvy, has such discerning eyes, and so much experience and patience. The whole crew at
Whiteflash
, Debi, Becca for their patience and understanding.
@diamondseeker2006
, the voice of wisdom,
@yssie
quite possibly the smartest person I know, and maybe the most patient (she tried to help me understand angles and table percentages),
@m-2-b
who I want to be when I grow up,
@hathalove
for bringing peace to the chaos in my head, and of course
@missy
who held my hand the whole way. (Honorable mention: 8 seasons of GOT for helping me survive the waiting period.) This year is the big 5-0 for me. It's time for this ring.
There are a few things I wanted to mention, things that surprised me. For those of you who followed my journey to find this
ACA
, you probably remember I was concerned about the darker arrows of super ideals and had difficulty getting accustomed to them. Well, I don't know if it's the setting but they seem less dark and I don't mind them at all now. Who knows why. This
ACA
is a complete sparkle BOMB, INSANELY sparkly, colorful and lively. All the back and forth with various stones paid off and I am certain I chose the best of the bunch. It is everything I wanted in an MRB and I am at stone-peace.