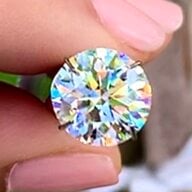 Joined

May 29, 2020
Messages

283
Just picked this up from FedEx today and was soooo excited to bring it home and see how

Whiteflash

did. Honestly I was a bit nervous this last week and second guessed my choice to go down to a K color, thinking that I might be disappointed with the ring when it arrived. As I waited for the ring to be delivered, I shopped online for acceptable backup stones I or higher, trying to maximize size while keeping the cost of the stone $9k-ish or lower.

My concerns abated shortly after I opened the ring box and saw the diamond: bright, very sparkly, and bigger than I was expecting. I did notice warmth in the stone (present in the side shots included) but I don't mind it--I got a ring I absolutely love for less than I was expecting to pay! The stone also faces up very white to me. After putting the ring on my finger and checking it out under a few different light sources, I felt that I had really maxed out the value for my budget with a gorgeous, ideal-cut, super-sparkly diamond.

Ultimately, I think I might have saved myself some anxiety by spending more time at a B&M comparing color grades. I only saw a single J, K, and L when my boyfriend and I went ring shopping. However, in light of COVID, I did feel a little conflicted about going to a B&M store just to check out color grades when I was fairly certain I would be purchasing a stone online. I also considered asking my

WF

SA to take some comparison pics of the K I selected against some Is and Js, but I felt that it wouldn't be akin to seeing the stone in person. So I decided I was ok with taking a chance and ordering the ring to see if I liked it, given

WF

's generous return policy.

A huge thank you to PSers for sharing your knowledge, advice, and beautiful jewelry pictures. I leaned particularly heavily on reviews by those who purchased warmer-colored diamonds to feel as confident as I could about my selection. I also want to say that picking this ring out was an enjoyable experience, and I appreciate that I was able to reference so many thoughtful opinions to help me find what I ultimately wanted.
Congratulations! Its beautiful! I know that feeling of anxiety waiting for a ring/stone to arrive. I'm glad your happy!!