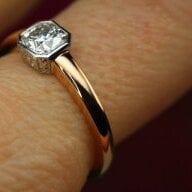 Joined

May 1, 2007
Messages

3,328
ok ladies, i need your opinions yet again to slap some decison-making sense into me!!

my parents did the most amazing thing and gifted me the half carat D/IF august vintage round (that i was about to return). i just cannot seem to decide between these two settings - one minute i think for sure the ann mackay, the next the JbEG. i would wear it on the middle finger of my left hand, and for reference i wear a platinum james meyer 1345 ering on my left hand with either a plain band or a beadset eternity. oh, and while my left hand is a size 6.25, the right will be an 8.75!! i mention that because i want it to look right on the finger as much as pretty in its own right.

one more thing, if i went with the JbEG, i am thinking of going with blue sapphs in the bezels closest to the center stone, and keeping the single cuts for the out bezels.

so, whaddy'all think?! (pics to come)

ETA: i'd love to hear The Why behind your choice too!