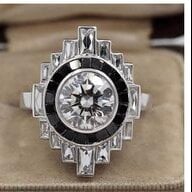 Joined

Jun 19, 2010
Messages

3,570
NKOTB|1315853880|3015902 said:

I think if you're not enamored with either, you're making the right decision. Part of the problem with this whole Mahenge thing is that it seems we are all seeking the perfect stone, or at least the best, and it may be that a lot of us can't find it within our budget, so we go through a lot of "second class" stones that are beautiful within their own rights but we may feel like we're settling because we haven't found "the one". My Mahenges may be included and/or not "top colour", but I absolutely love them and wouldn't care if they didn't meet anyone else's approval. When you've found a stone like that, then you'll know it's a keeper, Mahenge spinel or not. Sorry that this has been a frustrating enough experience for you that you are considering giving up on them altogether, though.
The irony is that I loved it 100% when I first got it, but then I started asking questions about it and now don't know. I'm my own worst enemy.