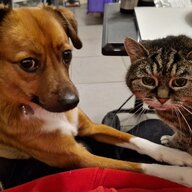 Joined

Jul 7, 2013
Messages

7,599
I can only comment based on my own personal experience when I was looking to get a 1ct+ EC.
L/W ratio is very much a personal preference, in that some prefer chubby ECs like the Krupp, whereas others prefer skinny ones like Princess Grace's (I prefer the latter to the former).
Although I am a fan of step cuts, I am not a fan of Asscher in diamonds.
Again, for the shoulders, some prefer the look of bigger shoulders than others. I personally prefer sizable shoulders than just a hint of one. I am not a fan of sizable step cuts without shoulders, as in a large baguette!
Can't comment on light returns etc., as I am not an expert. I only know what I like and dislike in ECs when I see them in person.
My advice would be to go and window-shop at high end stores to see as many ECs as you can before making a purchase, to decide what you like and dislike.
High end antique shops are great as they tend to have more ECs and old cuts such as OECs and OMCs than shops that sell new pieces.
Also keep an eye on jewellery auctions. I regularly browse the online catalogues of jewellery auctions from the likes of Christies - for inspirations as well as aspirations.
Enjoy your EC journey, and I look forward to seeing the end result.
DK