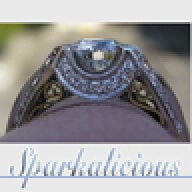 Joined

Nov 22, 2007
Messages

3,721
Okay... So "eye clean" seems to hold quite an expansive definition - it means varying things to different people.
I went to a jeweler''s the other day and just wanted to see their diamonds. I asked them if they had any "eye clean" SI1''s. The promptly showed me a diamond in a setting. I was assured that they ONLY carry eye-clean stones since they are kind of a she-she frou-frou type store. I took a look and almost immediately saw a black carbon inclusion on this completely "eye clean" stone. I wasn''t even examining it yet!!

When I asked about it, I was told "they are graded from the table" ... meaning??

If you can''t see it from the table, then the stone is eye-clean? ... Well, I beg to differ ... If I can see it, AT ALL, with my naked, unaided, diamond loving eye, it is
not
"eye" clean. It certainly isn''t eye-clean if it is only a carat, already in a setting, and before I even bring it close to my eye, I can see the inclusion.
My definition of "eye clean" means that unless you are using some form of magnification, you cannot see any inclusions. This is simply my definition -- maybe my definition is on the boundary of "mind-clean" ...

I am interested in hearing all of your own interpretations or definitions of "eye-clean", as I think it is an interesting point to make note of when you are shopping around for diamonds to avoid disappointment & clarify that your understanding of "eye-clean" is the same as the vendor''s definition of "eye-clean".