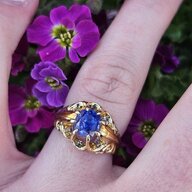 Joined

Apr 13, 2018
Messages

945
I <thought> that fracture filling or drill and fill in diamonds resulted in blue/purple streaks? Not red/orange.

I did see once a diamond that had a garnet (ruby?) crystal inside it. That crystal was eye visible so I didn't buy it but scientifically I thought it was cool.
I mean....I guess I could be wrong but I did find whisps that were described as pink online but they looked reddish orange to me that were an example for FF and looked identical to what I saw in the diamond.
I did contact the seller about it just describing my findings and they seemed shocked. They offered a full refund or a partial refund and since I do like the look of the diamond I decided a small partial refund felt right.
Id still like to move forward with its ring setting and just make sure to baby it lots!