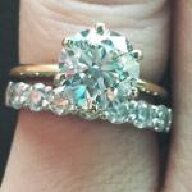 Joined

Dec 29, 2015
Messages

29
I know this is a subjective/personal issue with no right answer, and I also know it sounds like an obnoxious humble brag, but I am stressed and confused and could use some honest opinions. I was just given a large (at least to me it seems monstrous, but to you all on here it probably doesn't) diamond solitaire ring from a family member. Yay, right? But it is much larger than I realized before I asked for it--I didn't realize it would be so much bigger than my engagement ring. Years ago it was offered to me to use as my e-ring, but I didn't want it. I thought it was too big, didn't seem like me, and it comes from a divorce, which at the time I felt weird about. I absolutely love the e-ring that I did get, it is dainty and an antique, which suits my personality very well. Having my e-ring is what made me realize I actually do like diamonds a lot. So now that I was given the solitaire, I do want to wear it, but the question is how.

If I wear it on my right hand, is that totally bizarre because it's a solitaire? Is it bad because it is much larger than my engagement ring? I don't want to diminish the appearance of my engagement ring. I also don't know if people will think it's fake since it's not on my left hand and is bigger than my engagement ring.

The other option is to wear it on my left hand with my wedding band and wear my engagement ring on my right hand. I love the side profile of my engagement ring alone, but not the side profile of the solitaire. My husband has told me multiple times that it doesn't bother him if I don't wear my engagement ring (I wear my wedding band alone frequently), but I guess I still feel guilty if I do that. Also, I've been married less than a year, so I don't know if it will seem like I'm a super materialistic person "upgrading" in less than a year.

I know I'm overthinking it, but that's who I am. Any opinions would be lovely. I'll post a picture from my phone as a new comment, I don't have any pictures on my computer.