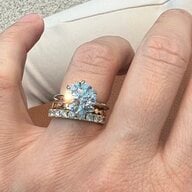 Joined

Jan 19, 2012
Messages

871
Yesterday I have made a comment to a thread about lost jewelry, and I realized, I still has no idea, what I should do with my 0.7 ct. diamond stud, from which I lost the other half of the pair.
So ladies, this stone is a 0.7 ct. K color VS 2 stone, which is actually in a bezel stud setting. I absolutely don't know, what to do with it. I have a lot of rings, so a ring is not considered.

I have considered a solitaire pendant or a bracelet, kind of a DBTY bracelet, or a bangle with the diamond bezel set in the middle.

I really would like to do something unique with it, but I can not find any uniqe pendant settings, which I would like.

Does someone has a good idea?