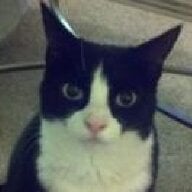 Joined

Aug 8, 2005
Messages

40,198
Is how hard it is to help animals in need.
Story of my afternoon.
Go to check the mail. See injured cat with mangled tail. Immediately stop and sit on (wet) grass and call to cat. Cat is suspicious but not running away like a feral cat would. So I crawl on my hands and knees closer until the cat look like it is going bolt. Stop and sit down. Cat decides it is too much risk starts to run, it's limping... then I crack open the can of cat food I have. Cat stops. Turns around. This is a cat that knows what a can opening sounds like. So I dump the food out on the grass (there was nothing else, else I would have not done that) 3 feet away from myself.
Cat bolts the food down like it is starving and will not let me closer. When it finishes it looks around for more food. Husband goes to see if we have another can in the car (our mailbox isn't anywhere near our apartment). We do. I put that out but this time only a foot away from me. Cat warily comes to eat but its ready to bolt at any second. I can see it's blue eye (it has one gold one blue) is badly infected and something is wrong with one of its ears. I reach out and try to pet it, it hisses and waves at me... I think it's declawed.
We debate me grabbing it and throwing my sweatshirt over it and stuffing it into the cardboard carrier we keep in the car (not my first rodeo). We decide it's too risky since we don't know what it's injuries are and the cat is done eating by the time we're half way through talking about it. So it goes about 5 feet away. Cleans itself. Looks over in thanks, walks away.
So... it's injured and starving. And I can't just leave an animal like that on its own. So we go to the SPCA to get a trap. They are out of them. Can't help us. Tell us to call animal control. They don't cover unincorporated areas of the county. Call another animal control that does.
Woman on phone: "is the cat in a trap?" No. "Well, we aren't staffed to trap animals and come and check on them". I'll check on it and call you when it is trapped. "Cats are tricky. I can't just leave a trap like that and wait for the cat to come. If the animal is too injured to move or in a trap we can help. Let us know if the condition of the cat worsens then we can come out."
REALLY? Deep breath. Thank you. So we call the county shelter that also has traps. "First come first serve". We drive out 20 minutes to them. "Sorry just signed out the last one we had."
Okay so... what do I do now? "Keep calling us." Okay, but I called this time and you said first come first serve. "Well, yeah. I don't have a good answer for you." How many traps do you have: "Three."
Thank you.
DH: That's it. I'm sick of this state. Every time we have this problem it takes an Act of God to get a trap. (We find a lot of injured animals, don't ask me why). We are buying a trap.
WHAT??? We're broke.
DH: Don't care. I'd rather eat spaghetti and hot dogs for the rest of the month.
Okay, so... that's a plan, I guess.
We call around to find a trap. 6th place we call has them. We go to get the trap. Making small talk at the register, I say... "we'll probably put it out during the day, I'd rather not trap a raccoon."
Woman at the register: "Oh, here's what animal control told us to do if you catch a racoon."
I interrupt and say: "release it..."
She says, "No. You take it into a really noisy area for a FEW DAYS. Play loud music, hit the cage with a stick, throw rocks at it. They HATE loud noises. After a few days when you let it out, it will be so traumatized it will leave the area with its family."
Me: Bite your tongue. Bite your tongue. Bite your tongue.
Her: Smart plan right?
Me, with bleeding tongue: "I just want to trap a cat. Torturing a raccoon for days on end isn't on my to do list, thank you."
DH: "I was gonna hit her with a stick if she kept talking." Me too.
ARGH....
You know how I would have handled this in NJ? The local shelters (private and state) all rent out traps. I would have given them a deposit for the trap, refundable. I would have trapped the cat and taken it to the local no kill, and then I would have been able to sponsor it.
Don't get me started on how hard it is to find a shelter to take cats in. Impossible. Seriously. We've done private adoptions every time over the last 10 years we've found an animal. I find them several times a year. Several PSers have cats I've found.
I swear I want to win the lottery just to open a HUGE shelter out here.
Here the pictures of the cat. Could use some 'cat catching' dust. If I trap it, I'll be taking it to a vet and starting a Go Fund Me for it's care. It is going to need that tail amputated.