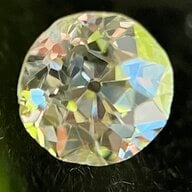 Joined

Dec 16, 2007
Messages

24,364
Well I think I *may* be ready to finally make my first coloured stone purchase

I have been wanting a blue sapphire for quite some time but have been suffering with champagne tastes and a beer budget. About a year and a half ago, I really loved a stone that Jeff White was offering, but much to my constant regrets I didn''t act and it went to our friend Neatfreak (
seen here)
!
A few days ago I was checking out Finewater Gems and came accross another sapphire that I really liked! It isn''t the common top colour, but I find I am often attracted to the violet shades of blue. And the cutting is

It reminds me a little of my first love, NFs Jeff White asscher.
It is a 1.27ct natural sapphire, which according to Gary displays the rutile pattern suggesting that it is not heated. Below is a collage of pictures including the vendor photo and some pictures that I had Gary take outside on an overcast day. I''ll post a couple more shots shortly. Other details can be seen here:
http://www.finewatergems.com/sapphire.html
Any comments or concerns about the cut or the color? How do you think the price is, given the color and assuming it is unheated?
Thanks!