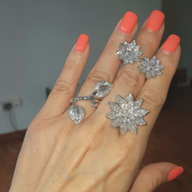 Joined

Oct 5, 2006
Messages

9,847
Hi all,
I've found this great I1 stone and the price is quite attractive (well, because it's an I1 stone!

). According to the vendor, it is eye-clean (from 10 inches away). I know it has some clouds and feathers (including a large feather at the girdle). The large feather, according to the vendor, can be mostly covered with a prong. There's no durability issue apparently. I'm still a bit nervous about the clouds as my understanding is that clouds can affect the brilliance of the stone.
The stats are as follows:
Table: 61%
Depth: 58.7%
Crown: 34 degrees
Pavilion: 40.8
I know it's a shallow and spready stone, but it does have an HCA of under 2. It's apparently very firey, *looks* like an ideal cut stone and the inclusions are more like thin white lines across the stone.
I will try and attach the
idealscope
and magnified images.
What are your opinions? Yay or nay? Any comments?
Thanks.
(Btw, it'd be set in a ring)