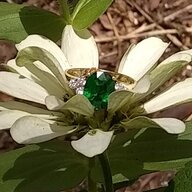 Joined

Nov 7, 2004
Messages

6,305
Do you have a thread about your bathroom remodel? We are about to start one. Costs seem very high since we are actually just doing a "refresh."
I did have one for the kitchen remodel I did, but I don't think I posted much about the bathroom remodel. The guy I'm seeing buys, rehabs and then rents houses for his living. He is super handy plus has a stable of guys who work for him who I pay directly but pay his amount versus a mark up. And then I do the smaller things like buying the materials in advance, cleaning up, patch & painting of walls, and maybe tilework. Because they have other jobs and live elsewhere it is a bit of a hassle and more drawn out, but definitely more economical.
To give you an idea, my kitchen remodel was around 4500, and that included new sink, faucet, stove, microwave (as well as a huge demo of an old chimney!) The bathroom remodel is actually a combination of bathroom, laundry nook, and closet/bedroom remodel. It's not done yet but it should come around 3K but I should mention the guy I'm seeing has helped me for free plus has donated materials and items for the project. This weekend he cut and installed the shelves for the linen closet, bedroom closet and laundry nook!I find that quite romantic! If I paid for all the materials it would be more. I've been very busy but I will maybe at some point take some pics for a before and after.
eta the kids know it has been a crazy year expense-wise but the tree wont be bare. We adopted a kitten in August. She is super playful so I hope she behaves with the tree! The kids will have things like Sims add ons, books for each, some clothes, oldest wanted a cake mug set, youngest stuff to make her own slime. volley ball, maybe a new exercise ball (we have an old one that wont keep inflated) as well as stocking stuffers. But nothing huge (except, oldest did get a laptop as combination birthday/christmas gift). And I am wearing the ring I put together last year, so I am not bling-less!
Last edited: