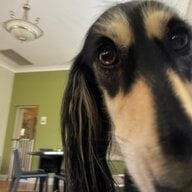 Joined

Jan 22, 2014
Messages

4,344
I always buy myself a jewellery gift for Christmas or two or three or.....
This Christmas I'm doing Jade, well, attempting to do Jade.
i also do eBay, pre loved and possibly a "find".
First up my Jade bangle. Goodness what a minefield it is and needing a 62mm picking are slim.
In my infinite wisdom I figured if I spend $200 or less, then as long as it's pretty and not glass or plastic, grade B, C, or B and C no complaints.
it doesn't glow under UV, it has colour below the surface, it has stone lines and crystals so fingers crossed it's a B.
Next up a necklace. This was $140. The chain is 14kt white gold and i rather liked the flower carving. Needs a good clean though, it's in transit still.
what's under your Chrissy tree?