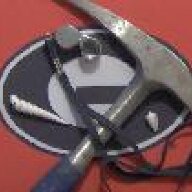 Joined

Feb 28, 2008
Messages

33
I started a post a month ago or so to highlight my WhiteFlash custom process. View Link below to review the process and ring/diamond specs.:
And now to finish the story I thought it appropriate to jump to the "Show Me the Ring" forum.
First off...SHE SAID YES and loves her ring!!!

Next, let me say that WF did an amazing job, and although the process was not entirely issue free, in the end they exceeded my expectations.
The best tip I can give someone thinking of having a custom ring made is allow yourself 5 weeks, if possible, to have the ring completed so you are not rushing to have it completed which can add to the stress. And do as much homework upfront to create the image of your perfect ring. Send them drawings if you are an artist, or find elements of various rings online that you like and collage them together pointing out what you like from each so that the CAD designer has some visuals from which he or she can render a CAD image as close as possible to what you desire. It is very important to be as specific and descriptive as possible.
Also, be prepared to tweak the CAD rendering at least once to fine-tune it to exactly what you want. I had to tweak mine three times...but I am an engineer who is too detail oriented for his own good.
But I must admit that they were very understanding and expeditious of those changes.

So without further ado, the completed ring images. I would love to hear your feedback.

Thanks,

-Dale
P.S. Hand shots to follow soon.