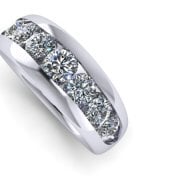 Joined

Dec 28, 2005
Messages

4,101
We're back from dinner. We do love this restaurant. It's very cosmopolitan and the food is so consistently high. It's in the same area our gym is (Mara, it's called 115 Midtown Grill in North Hills - keep this in your notes for your visit here in May!). The bread was good, but not as good as past loaves. Still we have 1/2 left over to enjoy tomorrow night with dinner. We started with crab cakes as an appetizer and they were served with ginger shavings and other greens infused with spices. Really yummy. Charlie, who usually has fish, found one of the dinner specials intriguing. He had the roasted pork tenderloin over thinly sliced sweet potato layers baked with egg and some really interesting seasonings. While I'm not a big fan of sweet potato, this was pretty exceptional. My meal was a filet (after today's workout, I think I was craving protein) in a reduction sauce (can't remember exactly what was reduced, but it was really special), over wasabi mashed potatoes, shoestring onion rings and tempura greenbeans (wow, were they ever fantastic). I ate all the beef and greenbeans, but left most of the mashed potato's and onion rings. Then we walked next door to Starbucks (personally, I find restaurant coffee rather disappointing) and had a cupcake and a cup of coffee and we sat outside on a really perfect night to be outside.
I'm determined to enjoy our remaining couple weeks here, but broken record Rod is so so ready to head home. We talked about the drive home at dinner tonight. Coming up here, we took two days and broke the drive into two six hour sessions. We're anxious to get home and since we don't have to arrive at any particular hour (we had to get here during business hours to sign the lease on the crappy apartment and get the keys), we're going to drive the full 12 hours in one day. Wake up in crappy apartment, put kitties in cars, program navigation systems so we don't get lost, get on the road and only stop for potty breaks and food. Get home, take a shower, go to bed and wake up in our home on the bay in Tampa. YAY YAY YAY!!!!!

Have a great Sunday everyone!!