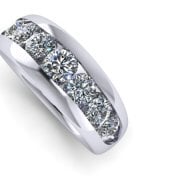 Joined

Dec 28, 2005
Messages

4,101
Happy Thursday Team PS:

Mara, I agree with you on keeping sweets around. You know that when I was on the weight loss wagon, we denied ourselves so much and we never had anything sweet or fattening around. Now, that I''ve lost the weight I wanted to lose (Charlie really didn''t need to lose any) and we still work out intensesly at the gym 5 times a week, we''ve relaxed a bit and do have some fun things in the house, but I often feel guilty if I indulge. Of course you know my weakness is a Tart Cherry Scone from Panera, but I''m now down to just a couple a week as opposed to one day. LOL

Work today was just odd. All of the sudden, I''m a hero. That''s seems my strange bosses new strategy to try to keep me, but it won''t work. I mean, I could say, wow, why don''t we go to the local prison and hire people that were just released even if they''re serial killers and he''d say........WOW, what a innovative idea, why don''t the other managers come up with such creative solutions??? LOL I''m super relaxed at work now. If I get something done, good. If I don''t that''s OK too.

I had referred a sales guy from Chicago I had worked with for many years in my previous job. And he flew into Raleigh for an in-person interview today. I hadn''t seen him in years, but the last time I saw him, he was very lean and healthy looking. When I saw him this afternoon, time has not been kind to him. He has this huge belly and he looked bloated and his face was red. My first thought was, oh my god......what on earth happened to you? And then he looked at me and asked how I managed to find the fountain of youth. He hasn''t seen me in years either, but since the last time he''s seen me I have changed significantly (I''m not fat and I actually have shoulders, a lean waist and muscles - LOL) and I look so much younger. He then says....."Well, aren''t you in your early 40''s?" To which I had to remind him that I was now 52. It''s funny how kind or unkind time can be? And it made me realize we do have the ability to make time our friend. It''s obvious he hasn''t seen the inside of a gym or been for a run in many years. And he carried his weight in the place where it''s the least healthy. I don''t mean to gloat, but man, did it ever make me grateful that I have adopted a healthier lifestyle and it shows.

Speaking of which, I haven''t run since moving to Raleigh. And I really miss it, so just think that in a few short weeks, I''ll be back in my beautiful condo on the world''s longest waterfront sidewalk and I will be able to start running again. YAY YAY YAY!!!

Finally, I ate real healthy today as usual and had a fantastic workout at the gym tonight. It''s just amazing how much better my workouts are without significant stress. It''s like there isn''t anything I can''t do. I''ve gotten so good at unassisted chin ups that I''m using the big boy chin up areas. For me, its fun. And I can''t wait to see our trainer back in Tampa, because when we had our last training session last November, I couldn''t even do one unassisted chin up and now I can do three sets of 10!!! WOO HOO!

Tomorrow is Friday and that means Sushi night. While I''ve grown fond of the sushi place we go to here, I can''t wait till it''s Friday night in Tampa and we''re back at our favorite Sushi place in Tampa. It really was the absolute best!!

I hope you are all looking forward to a great and healthy Friday and the start of the weekend.