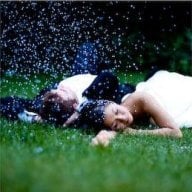 Joined

Sep 26, 2006
Messages

1,895
OH DEAR an 800 calorie sushi lunch?! Mara thanks for bursting my bubble. LOL. My heart broke when I read your post. Haha...and I thought 400 for those 12 pieces was bad. EIGHT HUNDRED CALORIES?!!! Still can''t get over it.
Anyway, it only got worse. I already had plans for dinner with two of my college friends, and we chose La Bonne Soupe because we all love sharing their cheese fondue. The three of us split that, and it was probably 2000 calories right there for each of us. Now Mara please don''t respond to say that it was actually 6000 calories for a cheese fondue...I don''t think I can handle it. LOL
Oh, there was a glass of wine (140 calories), a romaine salad with balsamic (don''t know how many calories), and I only had room for a few spoonfuls of my tomato soup (maybe 100 calories). I did indeed have dessert, which was creme caramel (300 calories). Le OOF! Had I known that my sushi was 8 zillion calories, I probably would not have had dessert at all...I''m not even a sweets person. Haha, as if 300 calories makes a dent in my total intake for the day.
Don''t give up on me yet, though. I was walking back to the subway station when I realized how close I was to Bed Bath & Beyond (and I wanted a new scented candle) so I decided to walk the mile to the store. As I was walking I thought, well I might as well walk right on home since it''s not too cold out. So in total I walked over 3 miles tonight!!!
Tomorrow will be better. It''s supposed to be 42 degrees with no rain or snow, so I can definitely run in that weather. I have to do it in order to work off my sushi and the fondue. Eight hundred calories for 12 pieces, huh? Dear goodness.
Oh and Jade, I thought it was so cute when you wrote "Mac & Cheese last night was awesome - hubby asked me, ''what brand is this?'' and I rolled my eyes at him and told him I made it from scratch with mara''s recipe." Yeah, my fiance is starting to recognize your names too.