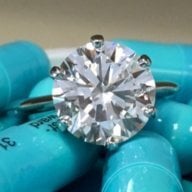 Joined

Dec 3, 2011
Messages

10,050
nowicanseethemoon|1382389377|3541861 said:

So here's a new development. I got my engagement ring (I had to send it back to get sized up and have sizing beads added - knuckle issues) and it is a lovely antique reproduction solitaire with an awesome donut. J says he actually really likes the ring (amazing!) but he doesn't think he'll like that the wedding band won't sit flush, so maybe I just shouldn't wear one. Um,... no. I don't want them to sit flush, hence the purpose of the donut. So, now I'm going to have to figure out how to deal with getting him on board with the whole gap issue. It's always something

But he eventually came around on the e-ring, so I'm hopeful we can figure this out too.
It's so funny that you posted this... the hubs didn't like the idea of my wband not sitting flush with my ering. I love a gap! To me the look of a gap is
effortlessly chic!
He will come around...
I tried on about 75-100 wbands before deciding on the "right" one. <--- seriously, I tried on so many that I started getting anxiety about it -- I was worried I wouldn't find what I wanted because it didn't exist (or I just didn't really know what I wanted)... I ended up choosing a dainty bezeled diamond band. I didn't want anything to "overpower" my ering, but really wanted it to be seen. This is what I ended up getting and love it!!

The hubs wanted a 14K white gold brushed band with a little something extra so it "wasn't a plain band".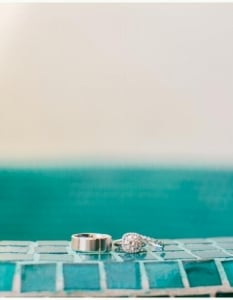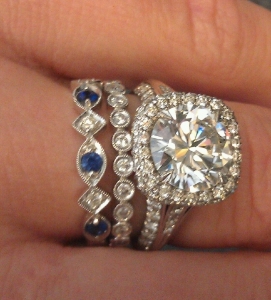 ...sorry for the huge photos!!