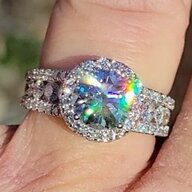 Joined

Jun 26, 2017
Messages

909
Unnamed and as-yet unmatched 4.9mm OMC hovering around the .65 ct mark.

This will be matched and set as the top of a pair of moonstone earrings. It's super duper deep, so an earring setting would be perfect. The more I look at the facet pattern, the more I want to gravitate away from OEC and toward this kind of OMC. I can't explain it but it thrills me!
This project is going to look amazing. Can't wait to see the finished product.