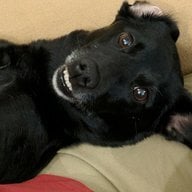 Joined

Sep 1, 2009
Messages

8,467
AL -- OMG


So cute!!!!
Okay....
So poor DH got to hear me yesterday. I'll spare him today and talk with all of you who understand instead!
We're getting so close!
OMG


So I know it will work out great. I know we have the financial ability to make it work. I know we can do all that.
It just seems so scary. So irreversible. So.... EEEEeeeek!!!!
We've decided to do minor stuff around the house for now and postpone any major remodel stuff for at least 2 years. My logic being (and DH agreed) that we've got another 4 months before we start trying. Even if we got pregnant right away, it would be another 9 months before there was a baby in the house and then we could easily keep the baby in a bassinet in our room for the first few months and then move the sewing stuff out of the office so we'd have an office/nursery combo until we did the mega remodel. (I figure a kid won't be scarred if they share a room with a computer until they are a year or so old!)
But then I can't help going back to OMG!!!!
I'd love to have more money in savings. I'd love to have a stable job rather than starting my career with an infant at home. I'd love to travel with DH.
I know (logically) that it makes sense to have a baby while I'm not working anyway so we don't lose my income for a couple of more years. I also know that I can do the online Master's degree so I don't have a gap and can still meet with all of the recruiters.
EEEEEEEEKKKKKKKKKK!!!!
Okay....
That said, I'm trying to figure out how to best time things (not that you have much control over that!). I need to not have a due date earlier than 6/20/15. I also need to not have an early baby before that date. That is spring quarter and I have a class I HAVE to complete that is only offered one time per year.
Ideally, I'd be able to finish school quarter and then have the baby in the last couple of weeks of June or early July (I'd love July for the rubies!) so that I can be home full time until the end of September when I'd have a few hours several days a week at school but mostly just at home. Schedule would be like that for a year and a half or so and then I'd do the online Master's program so I'd be home full time for another 2 years.
I don't want to quit bc until we're ready for immediate pregnancy because it could happen any time after that. I'm contemplating ending when I remove in September (but due date calculator estimates dd could be as early as 6/1
or ending in October (dd as early as 7/1
. I'd sort of lean towards September because that gives a couple of cycles that would time just perfect edd's before the start of the next school year but I worry about planning to be in class up to a couple of days before...
But of course you never know as reading through the pregnancy threads here you can see all sorts of stuff like confined to bed early on or emergency delivery or early delivery or ....
GAH!!!
I'm a big planner and this is the sort of thing that has too many unknowns and things you can't control!
(Oh, and waiting until after school isn't an option because DH will be 58 in one week so I don't want to wait 2-3 years or more...)