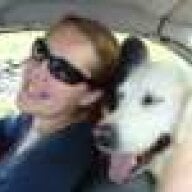 Joined

May 14, 2006
Messages

12,169
Date:

2/6/2009 5:16:36 PM

Author:

princesss

Date:

2/6/2009 4:59:53 PM

Author:

brooklyngirl

Chocolate,

I think it really boils down to how sure you are of yourself, and your feelings. He''s able to make you feel guilty about YOUR NEEDS because you''re unsure of yourself, and have some skepticism about whether you are absolutely right in your expectations of him.

Once you stop doubting yourself, he won''t be able to make you feel guilty. He should feel guilty, not you.

Marriage changes a lot of things for you. Aside from legalilties, you have a different status in the family once you''re married. I''m not sure what your relationship is like with his family, but even if they currently treat you like family, when you get married, it does change. Once you''re really part of the family, people will see you, and your relationship as more solid, and treat you accordingly.

You deserve to have your needs met. You met his need, and bought the house with him, where, exactly, is his end of the bargain?

Dammit, I''m really frustrated for you

Ditto.

He''s making you feel guilty about asking for something you need. It''s okay to need marriage. It really is. It doesn''t make you a bad person. It''s also okay to need him more than you need marriage, as long as you make the concious choice and are truly, 100% okay with it, which it doesn''t sound like you are.

You bought a house with him, for Pete''s sake, and he won''t discuss marriage without making you feel badly about it! That''s ridiculous. You deserve open communication without guilt.

Seriously, turn it around the next time he pulls the ''Well, you can''t really love me that much'' cr*p. ''Well, how much can you honestly love me if you''re willing to sleep with me but not marry me?'' It sounds like he''s counting on you to fold every time, and he''s getting exactly what he wants.

I''m so steamed up about this. I just hate to see such a sweet person in pain, and to know that it''s somebody you love doing it to you. Sammyj is right, he''s sweeping your feelings under the rug and that''s just not fair.
I totally agree with these girls but also with Gwen when she says
If you truly want to stay with him no matter how long it takes, then I think you need to adjust your outlook on this, let go of your expectations that it''s coming any day now, and essentially forget about it. What''s the point in stressing both of yourselves out (yourself and your boyfriend) if you are going to stay with him regardless anyway? There is no point, so try to let go, enjoy your dream house with the love of your life, and trust him that it''ll come. I know it''s an amazing sort of thing, but it is only one day out of the rest of your lives--seems silly to spend so many other days miserable worrying about it if you''re going to be together forever anyway, you know?

Easier said than done, no doubt. I don''t actually expect you to *forget* that you want to get engaged, but really, in the scheme of things, it''s a technicality if you have the man you want and are happy. And it''s one day of the thousands you''ve already spent together. Maybe try to focus on those instead?
Personally I would love to see you get a deadline off him but to me it seems like he''s promised so much before and didn''t produce the goods. As you won''t leave him, then I really think that you have to follow Gwen''s advice. You''ll have to put it to the back of your mind.