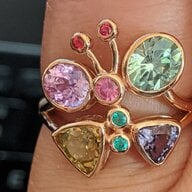 Joined

May 13, 2018
Messages

4,864
Is it only in sunlight that the nephrite looks bright?

The UK light can take the life out of certain gems.

A dead green would be like a very deep dark green.

Your nephrite bracelet is lovely! Not at all yellow or lifeless.

I am looking at Siberian nephrite and was hoping the green would be not so deep dark dark green.
I don't think the top quality Siberian nephrite would look that dark. I think that from browsing a lot of listings from Canadian and Siberian nephrite, the green is quite nice, and mine is typical for color. Note the little carbon spots that you see on some beads. The most expensive material will have the least of those black carbon spots. I have wondered before whether a lot of sellers try to sell you nephrite without showing it in strong light because they're trying to hide the black spots of the material and think they can sell it for more that way.