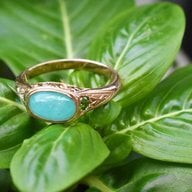 Joined

Jun 26, 2017
Messages

955
This spinel and this ring are reminders of why I so very love Cecile Raley Designs.

@deorwine

the spinel we both adored is set! These are the glamour photos from Yvonne.

@T L

I hope you like it, as this is another warm-cool combination that looks just right, at least in these photos.

@leslie1956

this would be right up your alley, too, I think. Red, green, lavender is one of my favorite color combos, and while the Jedi spinel set by Enhoerning was set in platinum with a cool vibe, I find the warmth of the rose gold of CRD brings out a different flavor and complements the warmth in the Mahenge spinel. I'm very much looking forward to seeing her in person. With this and with the aqua ring and I'll bet a bunch of other projects, the stones look better when set than through the gel of the sticky lid gem boxes.

@TheGarnetGirl

was it you who wanted a separate thread on this camellia ring?
Thanks for the shout out,
@voce
The color combination in this ring is just stunning, I'd wear it in a heartbeat! All of the elements are in balance