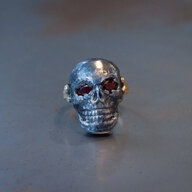 Joined

Jan 27, 2020
Messages

10
Hello all,
I'm trying to find out some information about a Vintage ring and cannot seem to find anything anywhere on it. Hoping someone can help me. It's a great item but I'd love to know some of the history behind it.
The hallmarks show a little star with 800 next to it, another one that looks like a 'K' and another that looks like maybe an 'IRE'...
Only info I have on it is that it was supplied by someone who deals with vintage jewellery in the Ukraine & the following description.
Pictures attached. Any help or insights would be greatly appreciated! (I believe the leaves on the side actually look more like Oak leaves than olive leaves though)
WWII Era Russian Military Ring
Vintage from the 1940s
Material
Silver
Size
11 US
Interesting WWII era Russian Ring depicting a bear on face of ring and olive leaves on each side of ring shank. Ring is in outstanding unworn condition.
800 Silver
Size - 11
18 Grams
Ring Face Measures 3/4" x 1/2