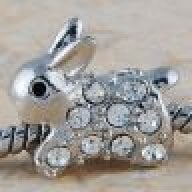 Joined

Jan 15, 2010
Messages

848
Forgive me for the cross post - I posted this to the Antique Jewelry section, but realized that it doesn't get very much traffic at all!
I wanted to share a recent purchase:
It was represented as a Victorian stick pin conversion dating to the late 1800s with an Old Mine Cut diamond set in the head. I don't know how accurate this is, and would love to hear any thoughts on this. To me, the details on the snake head and the way the diamond is set do look consistent with an antique piece. Victorian or not, I can see that this is going to be one of my favorite pieces. The snake has sleek eyes and a cute little mouth, and he looks great as a pointer finger ring!