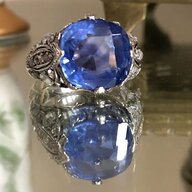 Joined

Jan 5, 2020
Messages

353
I wanted to share my Victorian enamel ring.
It was a Christmas present from my husband this year. We had agreed to no presents, but he really wanted me to pick a piece of jewelry and I remembered seeing this ring.
I love the engraving, the shape and the Cobalt blue enameling most of all.
The ring is showing its age, but the enamel is intact to a good extent. I find the wispy scroll details, the corner shapes and fleur de lis on the shoulders charming.
It's missing three of the four original rose cut stones at the corners. I may replace them at some point or maybe just leave it as is. It's part of the storied past of the ring.
The stone is an old flat cut Amethyst, not the most amazing specimen, but
I think the grapey color in combination with the blue enamel and rich gold is lovely.
I've named her Posey. She reminds me of a little bouquet of flowers.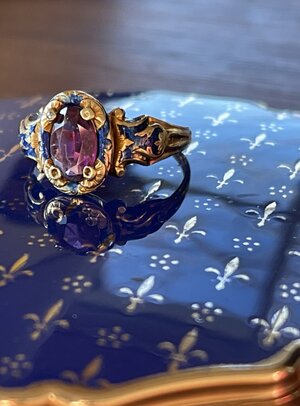 Fleur de lis on a fleur de lis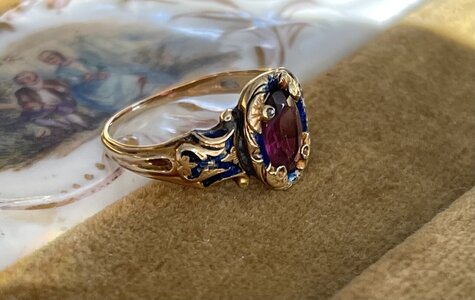 I've been pairing it with my only other enameled ring. It's a three stone chunky OMC, also Victorian. Most of the enamel has worn away, but the engraving remains. The inside of the band is engraved "SRT, Aug. 28, 1865".
I'm assuming it was originally someone's wedding ring or perhaps a memorial ring.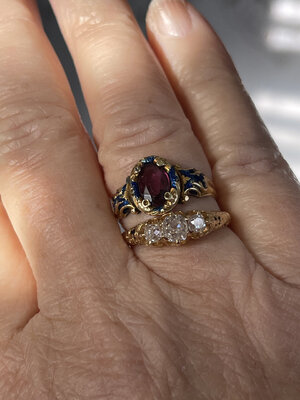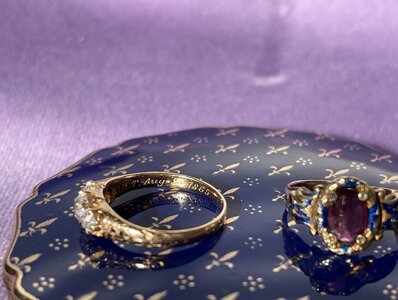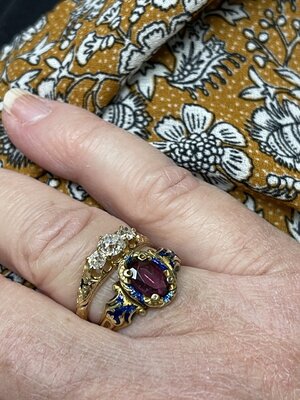 I have a couple of antique sapphire bands that complement her as well.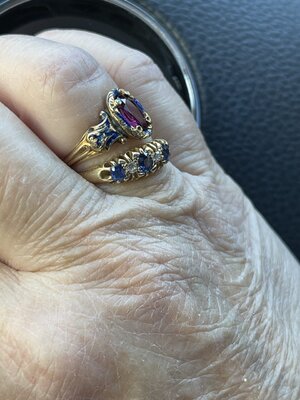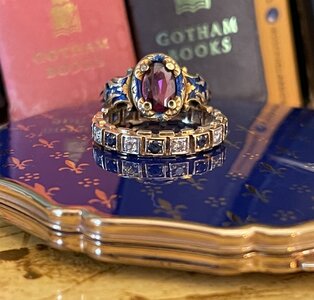 It played nicely with my large sapphire when I first tried it on, but I'm not planning to wear them together.