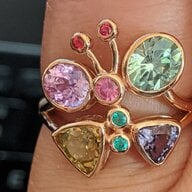 Joined

May 13, 2018
Messages

5,122
Thank you! Gary had informed me that the color combination is very rare in sapphires and that he was lucky if he saw only one sapphire with this parti-color of blue and purple that can be seen in all lighting on his buying trips to Sri Lanka. I don't know much about what is common or not (obviously haven't seen as many sapphires as Gary), but I love it regardless which is all that matters.

I'm very excited about figuring out how to set this for an engagement ring!
Ooh, are you getting engaged or just got engaged? If so, congratulations. I'd love if you'd start a thread to discuss ideas for setting it!