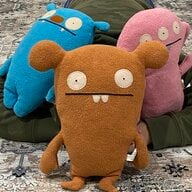 Joined

Oct 24, 2012
Messages

11,009
You have such a great look with this collection

@LLJsmom

. Its a signature look and you wear all of the pieces so beautifully.

A question for you. I read the thread on your journey to find a tennis bracelet. Now that you've discovered VCA, if you were to do it all over again, would you skip the TB and go straight for a VCA (the perlee or the vintage Alhambra)?
Thank you for your lovely compliment
@facetgirl
. To be honest, with hindsight and the experience that comes with it, the answer is yes, I would jump straight to VCA. But I needed to mature emotionally to be able to "handle" VCA. I'm weird like that. It has taken years for my eyes to adjust to the physical size of a vintage motif. Initially, even with a 3 ct e-ring, the size of a diamond is so much smaller than a motif that I felt intimidated by vintage motifs. I started with Sweet Alhambra bracelets which were less startling to my eyes size wise. When my eyes could focused on the detail and impeccable craftsmanship of VCA, I wanted to "see" the motifs more clearly, and I graduated to the vintage size. Once I got comfortable with that, you couldn't hold me back. But all that took time. That's just me and some people don't have my "issues". I would say that if you are seriously considering VCA, keep going back and trying it on. I probably visited VCA for 2-3 years before I had the courage to buy a vintage bracelet. And then it was a solid rose gold piece, which almost as soon as I bought, I discovered I wanted a colored stone instead, because I wanted to see the contrast between the stone and gold perlee edge. So i gave the rose gold to my Mom who wears it 24/7, and I bought chalcedony, my first stone bracelet in the vintage size. Anyway, way too much info I'm sure, but I've been trying to process how I got here too. When you step back and consider how many I have, it's kinda insane, for me anyway. I'm not a collector type person. I want to wear EVERYTHING I buy so I don't buy doubles of much. But the really crazy thing is, I wear all my WG pieces A LOT. My Mom wears the yellow and rose gold. I make the effort every day to switch it up because I really like to and it's fun and love how they look. I've never felt that way about jewelry before. I put on stuff and never take it off. E-ring, pendant and studs, usually sleep with it. But VCA brings a little excitement every morning when I decide what to wear. OMG. I sound like an obsessed crazy person. Ahhh, which explains the title of my thread.
(In hang out, you will see the "branded pieces" thread where I posted a zillion pics of stuff I have tried over and over again. It's been a process.) Geez. I'm sorry this was so long.