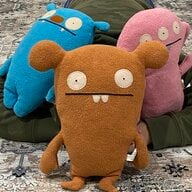 Joined

Oct 24, 2012
Messages

11,880
I'm probably breaking a rule here creating a thread just for a VCA piece, but this little guy is just toooo beautiful. Seriously. And it qualifies as jewelry, right? It soooo was not what I had planned on getting, but I love this one. Love it. And if I post this little thing, then maybe Phoenix can create a separate thread for her PAVE Love and her Perlee with diamonds.
Just gotta post the pictures... Anyway, some of you know I've been hunting for another piece to go with my butterfly. At first I thought I would go with the white gold with diamonds, but when I finally put it own, it just looked bland.

I was about to leave when I thought I would try something that I probably wouldn't like, but what the heck. I was already there. I put it on, and bam. It hit me. I loved it. It must be the color that I love. I thought I couldn't go with something like rose b/c I'm super match-matchy and my left hand is all white gold/platinum. But it looks great. Darn VCA.
The piece is really so very, very pretty. So beautiful really. I feel it makes my butterfly look bluer.