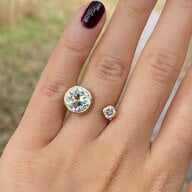 Joined

Oct 20, 2015
Messages

231
I thought to start a reference thread comparing the different lengths of the VCA 10 motif necklace, in case others find this useful.
The reason I was so focussed on the different lengths is because I hadn't budgeted for a 10 motif at all, and it was important that the necklace could work in multiple ways. Since living with it for a few weeks, I've had a chance to wear it with multiple outfits and to also compare the colour of the RG with that of other maisons'.
TLDR: I've decided to keep it at the original length because I like the (shorter) distance between each motif and I wear it at 16 inches often. I am getting an 18k RG extender made. Scroll to the bottom for pics!
The backstory
I went to the London flagship store to place a special order size for the vintage Alhambra onyx ring (small size due to it being a pinky ring) and noticed that my SA was wearing a hammered YG 5 motif.
I'd seen the hammered YG bracelet once before in real life before on
@RosieR
and absolutely adored it. I'm usually a YG wearer but also own a few pieces in RG, and mix the two colours on a daily basis. I'd also tried on both the hammered YG and RG 20 motif necklaces at various auction houses in London.
When I enquired about placing an order for the hammered 5 motif bracelet in YG, my SA mentioned that it would take some time but also interestingly, they were receiving shipment of a 10 motif in rose gold in the next couple of days. Usually they don't stock any hammered pieces but this necklace was stuck at customs and was supposed to arrive before Christmas but missed the date. Lucky me!
Prior to trying it on in person, I made some notes on what criteria the necklace needed to fulfil in order to be part of my collection:
Multifunctional as a necklace and a bracelet - I already have a VCA pendant in onyx and three other necklaces, but I don't actually own a bracelet (only two bangles). The necklace needed to work with multiple necklines
No style overlap with an existing necklace - I am missing a more "full-bodied" necklace as all my necklaces are dainty pendants
Easy to take care of - I am a klutz and incredibly lazy. My jewellery needs to be hard-wearing and shower/gym-friendly
Not gonna lie, I spent hours on the other forum going through VCA 10-motif comparisons (that I think
@LLJsmom
helpfully compiled?) but very few actually had comparison lengths on the same neck.
So I thought it'd be helpful to create a reference thread here.
The comparisons
Scouring various forums, it seems there are a few comparisons:
10 motif necklace vs two 5 motif bracelets worn as a necklace
10 motif necklace worn at 16 inches (original length) and 18 inches
10 motif necklace worn at shorter lengths
Triple wrapped as a bracelet using an extender
1. 10 motif necklace vs two 5 motif bracelets worn as a necklace
I tried on a necklace formed of two bracelets, MOP and chalcedony (gulp - the chalcedony was stunning!).
The two joined-up bracelets were about two inches shorter than the necklace, with the motifs closer together and being more like a choker.
This helped me rule out getting two bracelets to be stacked and worn as a necklace.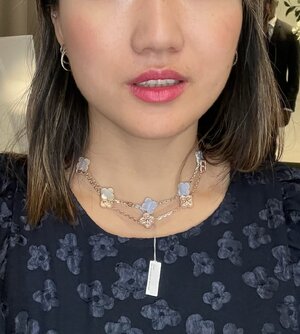 2. 10 motif necklace worn at 16 inches (original length) and 18 inches
The standard length of a 10 motif is 16 inches. I had learned via online forums that VCA can extend to 18 inches; the only permissible way to do this is with links spaced out evenly between the motifs.
When I asked if the links can be added unevenly with more at the back/clasp than the front to preserve a shorter distance between the motifs when it's being worn, she said the maison is very strict and cannot do it that way.
As such, I bought a cheapo extender on eBay with jump rings at one and two inches (VCA do not provide extenders).
Here is the comparison between 16, 17 and 18 inches on a crew neck jumper.

For crew necks, I prefer it at 17 or 18 inches because the necklace often disappears under the jumper when it's at 16 inches.
Sadly I don't have a comparison photo between my unadjusted 16-inch 10 motif vs an extended 18-inch 10 motif. For an extended 10 motif, the distance between each motif is longer by 1/5th inch.
3. 10 motif necklace worn at shorter lengths
For lower necklines, I like shorter necklaces. These have been "shortened" by the clasp fastening onto a motif rather than the jump ring.
Here is a comparison between 13, 15 and 16 inches. Not sure how often I'd wear it as 13 inch (reminds me too much of my teenager days!) but it's good to have the option.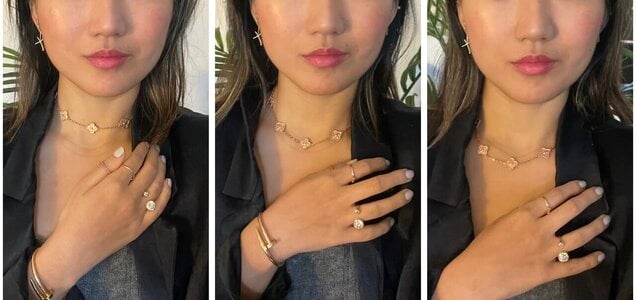 I also like to wear the necklace short when I'm sporting a turtle neck (15/16 inches).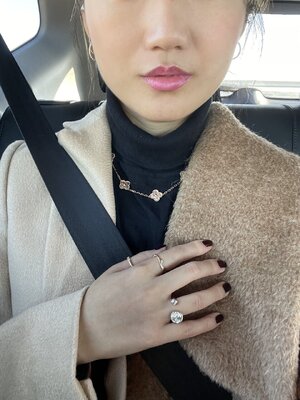 This is what I mean by 'shortening' the necklace: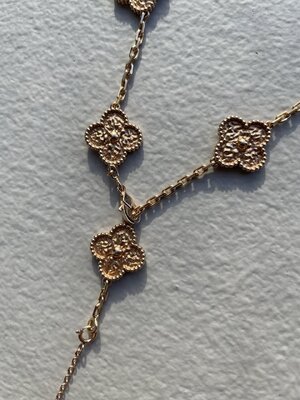 4. Triple wrapped as a bracelet using an extender
Before trying it on, the main reason I would extend to 18 inches was so that it can be triple wrapped as a bracelet. My wrists are 5.75 inch (14.5cm) for reference.
The 16 inch length is way too short to triple wrap, but way too long to double wrap!
My main concern with using an extender for triple-wrapping is because the extender is just a length of chain so I thought it would be very obvious.
Actually, after trying it on with an extender, I don't think anyone would notice - and I don't mind it either (no one is going to look that closely!). There are enough motifs with chain lengths between them that the extender blends in (you can just about see the VCA clasp and the extender in the second photo).