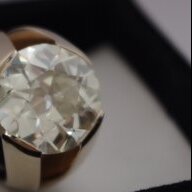 Joined

Aug 28, 2016
Messages

13
Hi to all experts and not,
As wedding present for my future wife I decided to use a diamond I got a long time ago from my grandmother.
As until now I always kept it in a very safe place I never cared about the value, but now... as I hope she will use the ring sometimes, I would like to insure it.
The jeweler who helped me with my project did estimate the value around 30.000 Euro as it is and old European cut, but he told me that having it recut, and if the size will still be over 10ct, the value could easily arrive to 80.0000 Euro.
For which value should I insure it?
The jewelr made a certificate.... It is not GIA, I know (unfortunately I began to read this forum too late!):
Measurements mm: 15,93 - 16,00 x h 7,86
Weight: 12,54ct.
Clarity grade: SI 1
Color grade: L
UV fluorescence: Medium
Proportions: fair
Table: 49,4%
Crown height 13,2%
Pavilion depth: 35%
Total depth: 49,2%
Simmetry: Fair
Polish: fair
I took pictures only after having having it mounted, the quality of the images is terrible but I hope you will get a better idea!
Thanks to all for your help!