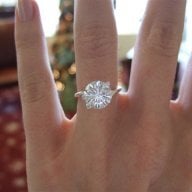 Joined

Aug 28, 2007
Messages

646
Hi all -
I ordered my wedding band from
Whiteflash
back in 2008. I cannot find a link or photo, but it is a five stone trellis band very similar to this one (both in stone size and design), with five .40 stones...
[URL='https://www.pricescope.com/community/threads/my-new-2-56-cttw-5-stone-band.72660/']https://www.pricescope.com/community/threads/my-new-2-56-cttw-5-stone-band.72660/
[/URL]
It is set in platinum. Originally, I asked Leon Mege (who made my original engagement ring) to make this band, but he refused, saying that it was a 'cheap' setting. I was not sure what he meant, but proceeded to order it from
Whiteflash
.
Fast forward a few years to 2011, when I lost a stone from the band. Luckily I was able to recover it, and had
Whiteflash
reset it for me. However, every couple of years the stones get loose, and require servicing. This runs me about $325 every time I get
Whiteflash
to service it. I have several other diamond rings set in platinum, and this is the only one that requires this frequency of servicing.
I recently sent the ring back to
Whiteflash
as the stones are, once again, loose. I received a notice that the ring had been received, and was told that I would be contacted by customer service within a few days to confirm service specifics. On a Friday, I was provided with a service quote in an email indicating that they required me to reply to the email as consent to proceed with service. They said that, once I did, I would receive a PayPal request for payment.
I understood from these emails that service would not proceed prior to me replying to the email quote, and prior to making the Paypal payment. I was traveling that weekend but intended to contact
Whiteflash
prior to authorizing the service, as I wanted to inquire as to whether this frequency of service was typical of this setting. If so, I was going to consider a reset to a more secure setting.
On Monday I received pictures of my completed ring. The service had proceeded without my authorization, and prior to a Paypal invoice even being sent to me. They have since invoiced me for US$335.
I am upset that they proceeded with this work prior to my authorization, and without even giving me a chance to send an inquiry. I expressed my dismay to their customer service department, and was simply told that this type of maintenance is typical of 950 platinum. I was also told that there was a new employee dealing with service requests, which is why my ring was serviced without my consent. They apologized but did not offer to do anything about the error.
I am upset with how these events have unfolded, and am wondering if, in your opinion, my disappointment is justified? Also, is this frequency of maintenance really typical of 950 platinum? I have used platinum for all of my settings because I thought it was stronger and required less maintenance.
Any feedback would be much appreciated.. thank you in advance!