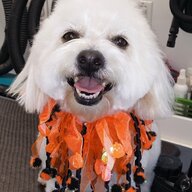 Joined

Feb 8, 2014
Messages

787
I LOVE your ring!! It's
SOOO
elegant!!

I thought I was color intolerant too, but I think I've learned to love different diamond colors after all this time, as I haven't met too many diamonds I wouldn't want to keep. What I haven't been able to overcome are mind-clean issues. I bought a CBI J SI2 for my pendant project and it was BEAUTIFUL. I couldn't see ANYTHING with the naked eye, and could barely see anything with a loupe either, but I just couldn't live with it and traded it for a slightly bigger J VS, and now I'm happy. I can't do chips or carbon at all, I can't get past the flaws....
However, I bought a pair of earrings recently that have a couple of carbon spots on the underside of one stone, but I got such a ridiculously good deal on the earrings that it doesn't bother me at all. Go figure.
I hope you enjoy your CBI for many years in the best of health and happiness.