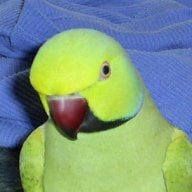 Joined

Jul 14, 2006
Messages

2,037
Date:

2/23/2007 11:38:34 AM

Author:

lumpkin

Date:

2/23/2007 10:41:16 AM

Author:

Cehrabehra

Sometimes I really worry about the impact of internet sales on how diamonds will end up being cut - you know... cut so that like you said, they all look alike - they''re all in the same ranges, and they''re cut to conform to an

idealscope

or a H&A viewer. Rather that they''re ALL cut like that. It''s still something to behold out in the real world, but if all diamonds were like that how bland would that be... I dunno, I like my weird stone and I''m more than happy to be in the quirky stone group even if I don''t have a round LOL
It''s a really interesting question. The internet is very good at rationalizing inefficient markets and the diverse, variated mom and pop and B&M jewelers represented a market ripe for change. Considering that early adopters of internet diamond purchases are probably rather analytical people it is predictable that the math and the quantification would be important decision drivers on such a sight unseen purchase.
From the point of view of an internet vendor he is probably evaluating stones on his site for their "internet saleability" as much as anything else. Supply will fill this demand so we see more stones that share similar features.
Inevitably things change. Right now we see huge demand for "customization" for many goods, especially web pages, personal websites, iPods, personal computers, cell phones, even automobiles. (The Scion line from Toyota is specifically custom oriented).