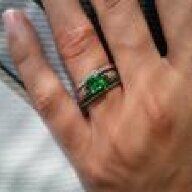 Joined

May 16, 2011
Messages

69
Hello all,
I picked up a purchase from the post office today that has brought me out of lurkerdom. Its a tsavorite eterinty band that's from ebay, I know another pser bought and then returned it to the seller not too long ago. My engagement ring is tsavorite and I love it, I have been wanting more of that tsav green for a while now, and since my DH is not too keen on upgrading to larger stone, I thought an eternity band might just do the trick. It does. ....but the green of the eternity band doesn't quite mesh with the green of my ering. The band's tsavs are a medium dark green with a strong blue undertone, my ering's stone is considered medium dark as well but it doesn't have as strong of a blue undertone, I don't want to say that my ering stone has yellow undertones but when the band is next to it, it can seem that way in comparison. I don't like this, I love my stone and I love its color, I find myself wishing the band's stones were a truer green, closer to my stones tone.
That being said, I love the band by itself. I am nuts about pretty much anything tsavorite and here I have an eternity ring full of them! Not to mention its my size and very nicely worked and the price wasn't too bad. It was labeled as an estate piece from the seller and a few of the stones do have some nicks, but that doesn't bother me much as that's what happens when you wear and enjoy your jewelry, other than that I think its pretty nice quality.
So I am torn, do I return the ring and possibly try and go the custom route to get an eternity ring that is closer to my ering stone's tone, or do I enjoy it for what it is and have a slightly off color set?
Here are some photos (phone camera, not great), irl the difference between the tsavs seems pretty noticeable but can anyone else see a difference in tones? Is it cause enough to send a tsavorite ring like this one back? Any opinions or advice is appreciated.
ps please excuse how dirty my ER looks