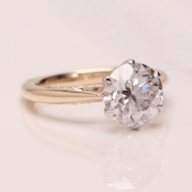 Joined

Aug 12, 2018
Messages

90
My fiancé and I just got engaged about 2 weeks ago with a ring we custom designed together, and it's absolutely gorgeous.
The only problem is... I think it may be too big for my comfort zone. The reception has been very nice, no negative comments, just a lot of "ITS HUGE", but I'm just not sure if it sits right with me yet. If it were just me and this ring, I'd never take it off. I have no issues with it's size, and I've been trying not to care about outside perception but it's definitely been bugging me more than I expected.
It's a 2.58 H VS2, and I also realized I might be a more color sensitive than I thought. I'm thinking of maybe going down to 2-2.25ct in a better color grade.
I have a great upgrade policy on the stone, the only issue is the stone was purchased separate and the setting was done by David Klass. I was wondering if anyone had any experience changing the stone in their setting? How long it might take, if it'll absolutely need to be sent to DK again because of the size change, or if it can just be switched out.
Or, should I just wait it out and get over it? I live in a big city where big stones aren't uncommon, but it definitely still stands out. I'm comfortable at work and home, but traveling to see our families is a bit of a different world.